Black Kat pedals are built around a larger double sealed bearing sytem, With a larger platform, thinner body and over all lighter appeal, these pedals bring great value. By utilizing a concave shape to the platform, rounded edges at the spindle, traction grooves throughout and included an additional pin kit with every purchase. - Extruded and CNC Machined 6061 T6 Aluminum - 100mm x 100mm platform - Concave body - Fully Serviceable DU Bushing and Double Micro Sealed Bearing System - Intended Use: Downhill, FR/DJ, Enduro, All Mountain - Allen bolt style pins - Additional Allen Pin kit included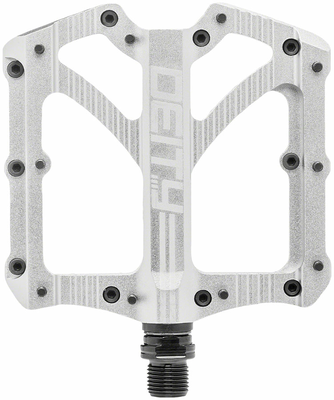 The Bladerunner is a perfect platform pedal for any application, this super minimized design at 11mm thin with a platform large enough for incredible stability. The Bladerunner thrives in the most technically challenging conditions possible. When ground clearance is a priorit you will be hard pressed to find a pedal more suitable for rocky terrain.
The DEFTRAP will revolutionize what you should expect from a nylon composite pedal with it's non-offset symmetrical platform to offer added stability behind the spindle, a true concave pedal profile so your feet sink into it, 10 total pins (8 replaceable cr-mo pins and 2 molded pins), our tried and true sealed bearings and DU bushing system, and top tier nylon and glass fiber composite material to create a pedal that feels unlike anything on the market. With a focus on ride quality, increased foot support, added stability, leading traction, ability to skim over rocks, and even coming in 10 colors-the DEFTRAP will challenge you to rebel against the conventional perception that a value pedal cannot rival the best pedals on the market!